Salt dough is a great medium for making these realistic-looking starfish. We decided to hang them on a piece of jute to make a really cute garland for one of our boys' nautical-themed bedroom. They would also make great Christmas ornaments for a nautical tree.
What You Need:
Salt Dough: Mix 2 Cups All-Purpose Flour, 1 Cup Salt, and 3/4 to 1 Cup of Water

Jute or Heavy Twine

Toothpicks



How You Make It:
Take a chunk of the dough and roll it into a ball. Onto a lightly floured surface (to prevent sticking), use hands to flatten ball.

Once you have your circle of dough, use a toothpick to press marks into the dough where the arms of the starfish will be (or are they legs?????)

Remove dough between markings and use hands to round and shape the starfish form.

Use toothpick to make long indentation in center of each leg and to poke small holes up and down arms of starfish.

Poke hole in top of starfish (we used the non-pointy end of a ball point pen).

Let dry, either by allowing to air dry, or by baking in a 200 degree oven for several hours until hardened.

Once dried and cooled, apply coat of acrylic sealant.

Tie small loop through hole at top of starfish with jute so the stafish will hang flat when suspended.

String starfish on strand of jute to make garland.
Submitting this project to:
http://thirtyhandmadedays.com/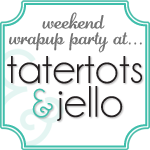 http://shabbyartboutique.blogspot.com/